CDM Mobile Shredding is the only company headquartered in Northern Michigan that shreds documents right at the doorstep of their client's business.

We even provide clients with a Certificate of Destruction for their compliance records after each visit.

Other companies offer shredding services, though many of these companies simply pick up the documents and travel as far as Grand Rapids and Detroit, where they are eventually shredded.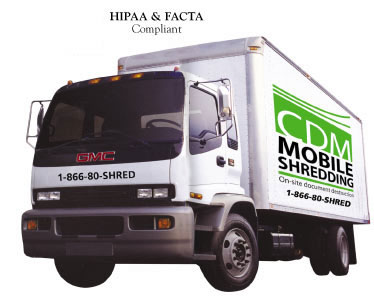 CDM Mobile Shredding offers scheduled visits that are both convenient and efficient, whether weekly, bi-weekly or on a monthly basis.

CDM also turns the shreds into one-ton bales and sends them to a recycler to make consumer products such as paper towels. "Our available 64-gallon locking shred container has a 200 lb. capacity. For each full container, our clients reduce the tree harvest by an estimated three trees," states Mr. Treece. "A very respectable added benefit to shredding."

For more information, please call:
866-80-SHRED (74733)
231-944-5447
231-313-8118
"When a local company hires us to handle their shredding needs at a cost that is less than transporting them downstate, it is not only much more secure, but also cost-effective."
—
Doug Treece
Vice President, CDM Mobile Shredding